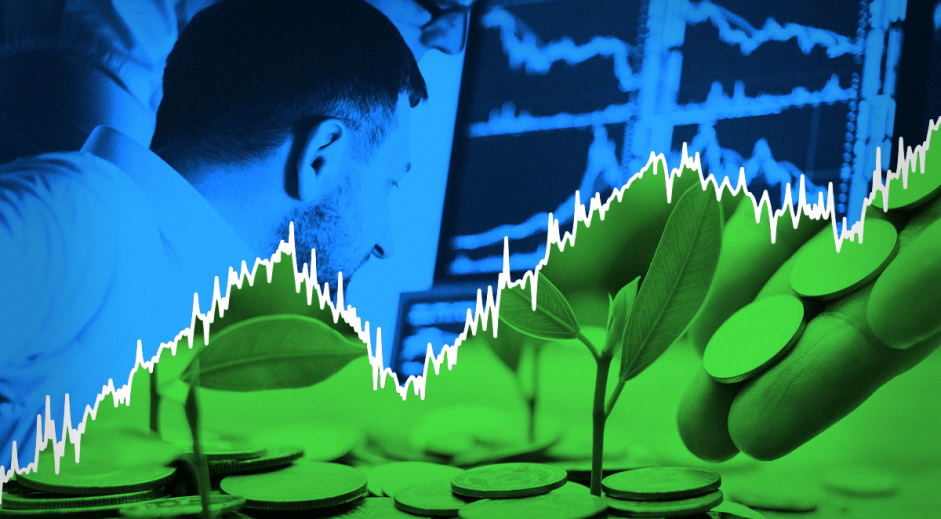 Olymp Trade vs. Binary.com: Which Trading Platform is Better?
An online brokerage account is a must for anybody who wants to start trading online. We suggest mastering the art of comparing various brokers. For example, OlympTrade and Binary.com. But choosing an online broker is not an easy thing to do. You cannot sign up at any online broker that turns up on a Google search because you have to trust the broker with your hard-earned money. You also have to make sure that the online broker will pay out your profits without delay. Here are just a few points to keep in mind while choosing an online trading platform:
Do you prefer trading on the move? Then you have to check whether the online broker is accessible on your smartphone or tablet. Find out if the online broker offers any native trading apps for iOS and Android devices.
Are you a beginner? Then you have to sign up at a broker that allows to get started with a demo account. The broker should also have a robust education center with free resources such as video tutorials, webinars, one-to-one consultation with expert traders, community, eBooks, articles, eCourses, and so on.
Are you an advanced trader? Then you need to look for a broker that offers sophisticated trading tools and features such as Stop Loss.
Do you want to create a diverse portfolio? Then your online broker should allow you to trade hundreds of financial instruments, encompassing not just local markets, but also international ones.
And what about the fees? You don't want to end up doing business with an online broker who charges exorbitantly. You want to profit from your trading activities without having to pay the broker a major part of your profits in fees.
We suggest mastering the art of comparing various online trading platforms. For example, let us have a look at Binary.com and OlympTrade.com
Olymp Trade – Key Features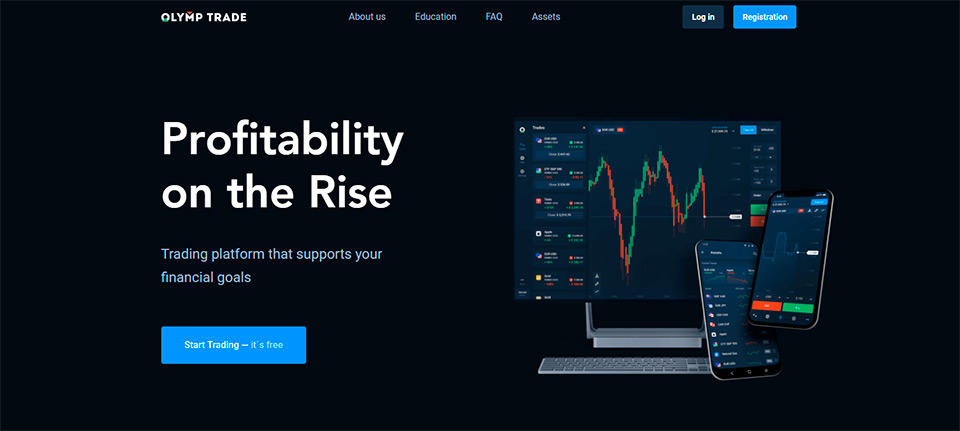 Launched in 2014, Olymp Trade not only presents a reliable online trading platform, but also teaches its registered traders how to make the maximum profits.
Olymp Trade became an A Category member of the International Financial Commission in 2016, a fact that makes it all the more reliable.
You get 24/7 customer support in multiple languages at Olymp Trade. Plus, there is a comprehensive FAQ section to give you the basic information about the platform.
You can trade assets such as indices, currency pairs, commodities, cryptocurrencies, and stocks.
Get started with a free demo account.
The minimum deposit is only $10 and the minimum trade amount is just $1. Also you can withdraw as little as $10.
Create a VIP account to enjoy special benefits.
Trade on the move via native trading apps for iOS and Android.
Olymp Trade Pros & Cons
If you are beginner, read this Olymp Trade review to find out that it is a great online trading platform to get started. The online broker offers a demo account and gives you all the training you need. On the downside, Olymp Trade does not offer any video tutorials, blogs, or eBooks. Also its asset range is rather limited, which might make things rather frustrating for advanced traders.
Binary.com Key Facts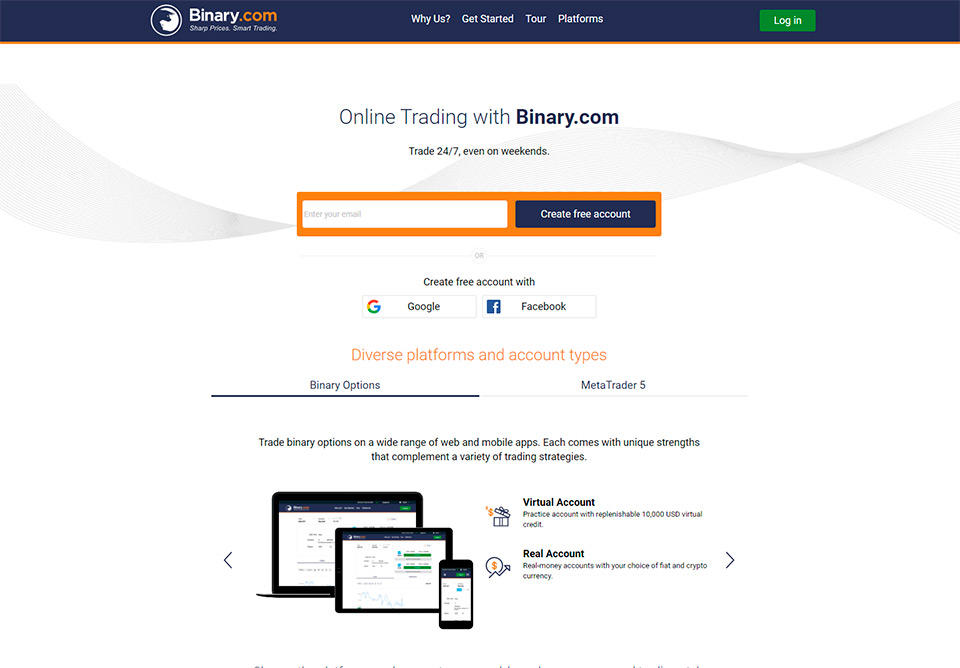 com operates on licenses granted in the British Isles and in Malta.
It offers a user friendly online trading interface.
The online broker uses a patented price technology, giving its traders the same rates of returns as interbank market traders do.
Enter positions for anywhere in the range of $1 – $50,000.
Retain trading positions for anywhere between 10 seconds to one year.
com allows you to exit trades before the expiry date to minimize your losses and protect your profits.
Since Binary.com maintains trader funds separately, you don't have to worry about the safety of your money.
The online broker has won multiple industry awards.
com encourages its traders to trade responsibly and make use of tools such as self-exclusion and limit setting to establish control over their trading activities.
Advanced traders can choose from a wide range of trading platforms, trading tools, and apps.
Traders can choose from 100+ financial instruments, including Forex, CFDs, metals, look backs, cryptocurrencies, and others.
com is home to the Binary Academy, which includes resources such as video tutorials, Binary TV, webinars, and others, aimed at informing and educating traders.
Get started with a demo account.
Binary.com Pros and Cons
Binary.com presents a transparent online trading platform, so you don't have to worry about vague terms & conditions and hidden fees or commission. Ideal for beginners as well as advanced traders, Binary.com is the home of excellent trading tools and learning resources. Compared to Olymp Trader, it offers a wider range of financial instruments to trade. And you can withdraw up to $50,000. On the downside, Binary.com is not available to traders from all over the world. Also, it does not offer any bonuses, promotions, and tournaments to spice up your online trading experience.
Binary.com or Olymp Trade – Which is Better?
Both are safe, secure, reliable, and experienced online brokers. We recommend both with equal enthusiasm. We cannot declare one to be superior to the other. You can create an account at both online brokers or choose one based on your goals and requirements. Make a list of your trading skills, goals, and strategies and choose a broker that can best satisfy your requirements. Open a demo account at both brokers so that you can have a test drive before choosing.